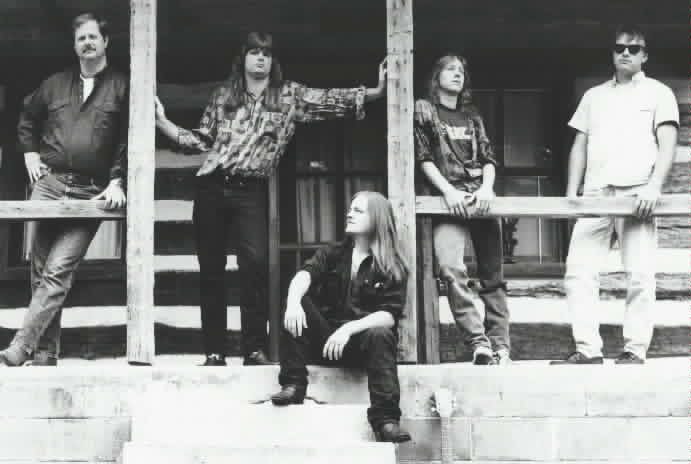 The Crowded. Tim Greiner (vocals), Jay Love and Chris Adams (guitars), Don Greiner (bass), and Ray Biba (drums). Five individuals with widely varied influences combining to form a finely tuned entertainment phenomenon.
The Crowded was born in November, 1993 out of the ashes of a hundred failed projects. Everybody knows the stories — egos, drugs, bad chemistry, and closed minds — all the things that doom most bands to mediocrity and extinction. Five musicians were searching for an escape to that mediocrity. They found it. You'll agree when you experience this band live!
The Crowded is an original project with very loose boundaries. When these five toss their ideas into the meat grinder that is the Crowded, there's no telling what will come out. It's rock and roll. That's as specific as it gets.
With the lineup complete and the boundaries smashed, the excitement surrounding this band has grown beyond measure. The Crowded have an impressive collection of original material, a constantly growing mailing list, and more of an itch than ever to show the world just how much fun it is to get Crowded.
The Crowded: Songlist
This list is actually much trimmed down. We had four hours worth of material.
Aerosmith – Eat the Rich, Train Kept a Rollin', Walk This Way
Bad Company – Movin' On
Blue Oyster Cult – Godzilla
The Crowded – Battlefields and Shame, Be Love, Beauville 20, Drinkin' My Blooze, Music Man is a Different Breed, Sunday Again, The Song
Cry of Love – Bad Thing, Peace Pipe
Doobie Brothers – China Grove

Eric Clapton – Crossroads, Before You Accuse Me
Free – Alright Now
Golden Earring – Radar Love
Jimi Hendrix – Fire
Led Zeppelin – Bring it on Home, Lemon Song
Lenny Kravitz – Are You Gonna Go My Way
Mountain – Mississippi Queen
Pat Travers – Snortin' Whiskey
Pearl Jam – Animal

Red Hot Chili Peppers – Give it Away
Rolling Stones – Honkytonk Women
Spin Doctors – Jimmy Olsen's Blues
Stone Temple Pilots – Creep, Plush, Vaseline